John Rigby Art
Terms of Use
John Rigby Art
Terms of Use
Terms Of Use
By use of our website, you or any 3rd party agree to indemnify and hold the John Rigby family, its affiliates, or representatives harmless from any claim or demand, (past, present, or in the future) due to or arising out of your consent and usage of the John Rigby Art website.
The John Rigby Art website and its content are being provided to you "AS IS". John Rigby Art does not guarantee or warrant any features or qualities of such content, which is given for explanatory and informational purposes only.
Conduct on the site and your use of our Contact Form should be professional and in accordance with general industry standards of use.
Our Terms of Use are subject to change without notice.
Use of this site is your acceptance of our Terms of Use.
If you have any questions regarding our website, please contact us.
Copyright Statement
All materials on this website are © Copyright John Rigby Art – All Rights Reserved. Under this license the copyright holder (the John Thomas Rigby family, Brisbane, QLD, Australia – for the purposes of this website referred to as John Rigby Art) reserves all the rights provided by copyright law, such as distribution, performance, and creation of derivative works. Others may not download, reproduce, re-use, modify, distribute, transmit or copy, display, publish, sell or use for sales without the permission of the copyright holder.
Contravention is an infringement of Australia's Copyright Act 1968. Requests for use of materials such as in publications or presentations should be with permission – we wish to assist the student and art community wherever possible.
Copyright legislation differs by country or jurisdiction. For further information regarding your rights and responsibilities, please refer to the administrative body or legislation applicable to your country or region.
Various images on this website have been previously published under their own copyright year of publication elsewhere. With permission of the copyright holder, all images on this website are watermarked with a general Copyright notice. Images not previously published or copyrighted to a specific year are by default copyright to the year 2017 or subsequent years on this website.
Aboriginal and Torres Strait Islander Advisory Statement
We respectfully advise Aboriginal and Torres Strait Islander peoples that this site may include images that may be of a sensitive nature.
Art Prizes & Awards
For the purposes of this website, "prizes" may include references to any competition or award, as either a winning entry or a finalist, and as noted in the image descriptions.
Acknowledgements
Our website has made use of written content from the Rigby Family, and the publication 'John Rigby Art And Life', (John Millington and Mark Rigby) and original photographic work from Richard Stringer.
Photography has been edited for web presentation by Laurence Shaw.
Website Help
New versions of Firefox may block external images showing from MailChimp. This is fixed by clicking on your "privacy badger icon" and setting the disable tracking protection.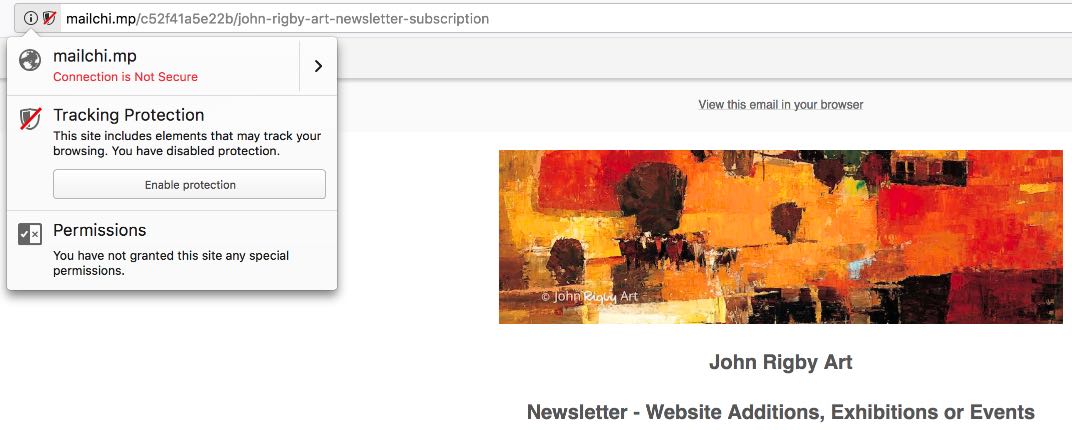 Firefox says you have an insecure connection: Firefox by default never messaged anyone that a http connection was insecure. There are no transactions on this website and the connections comply with industry standards. Firefox introduced this, we understand to push people towards using https and SSL certificates. If this message is annoying, you can type in the browser – about:config, and then find this line:
security.insecure_field_warning.contextual.enabled;true. Click on it to change it to false. It is now configured the way it always has been.
If you have questions about our website please do send us a note on our Contact Form.
Your Privacy
Our Contact Form requires that you provide some minimal information. John Rigby Art does not collect, use, store and otherwise process your personal or business data other than for the purpose of contacting you. You are responsible for and agree to provide John Rigby Art with complete, true, and current information. After we receive your email we may arrange a contact phone number should this be helpful.
Materials made available as downloads from the site record the user IP address.
Our site uses Google and Bing analytics.
The John Rigby Art Newsletter is considered part of the terms of use of our website and is for helpful communications about new information or materials related to John Rigby Art, such as exhibitions, galleries and so forth. These newsletters are infrequent, and are managed automatically by the MailChimp service. As per the terms of the contact form, we do not collect or use the data for any other purpose than the newsletter service. You may subscribe or unsubscribe as often as you wish. This is a "friendly" service. Please keep contact details up to date. If your email should bounce, we will remove the subscription. You may re-join at any time.
We shall never use this site or emails to request client logins, sensitive data, or bank account details. Please contact us if you are unsure about any communications you receive from John Rigby Art.
We reserve the right to make final decisions on any matter related to the John Rigby Art website, and where deemed necessary as per legal advice. We reserve the right to block any IP address, or remove a Newsletter subscription at our discretion.
Content Taxonomy
We welcome your contact with us. For all enquiries, please use our Contact Form.
If you wish to receive updates on future exhibitions or significant news,
please see our Contact Page to subscribe (or unsubscribe at any time) to our mailing list.
E-mails are infrequent but may be helpful. We have no concerns over changes to subscriptions.
Your details are kept confidential - as per our Terms of Use and Privacy.
We welcome your contact with us. For all enquiries, please use our Contact Form.
If you wish to receive updates on future exhibitions or significant news,
please see our Contact Page to subscribe (or unsubscribe at any time) to our mailing list.
E-mails are infrequent but may be helpful. We have no concerns over changes to subscriptions.
Your details are kept confidential - as per our Terms of Use and Privacy.
We welcome your contact with us. For all enquiries, please use our Contact Form.
If you wish to receive updates on future exhibitions or significant news,
please see our Contact Page to subscribe (or unsubscribe at any time) to our mailing list.
E-mails are infrequent but may be helpful. We have no concerns over changes to subscriptions.
Your details are kept confidential - as per our Terms of Use and Privacy.