70 Years of Professional Art
Presented by
the John Rigby Family
For details of John Rigby's life and art, please refer to the publication 'John Rigby – Art and Life', Playright Publishing Pty Ltd 2003 by John Millington and Mark Rigby.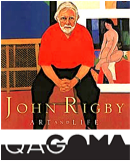 Art & Life Book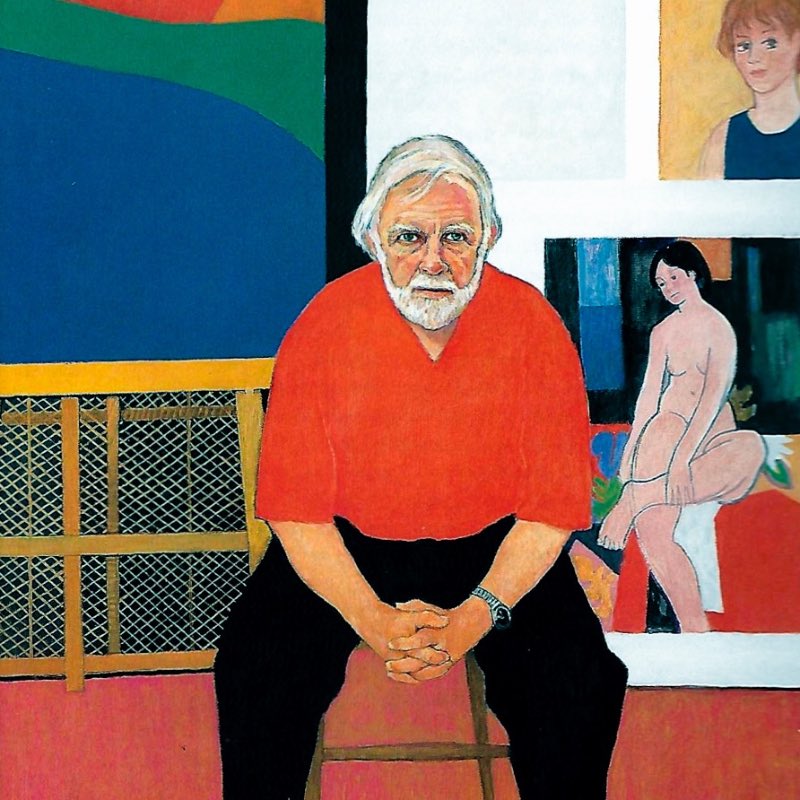 Timeline
An overview of the artist's career

John Rigby – Born 9 December, 1922 in Brisbane.
A child of the Great Depression, contributing to the combination of both commercial work for livelihood and artistic works.
Studied art at Central Technical College, Brisbane.
Victor Day & Sons – assisted sign writers with posters.
National Advertising – The Courier-Mail. Artwork for major clients such as Castlemaine XXXX beer.
Served in the Australian Military Forces, 26 March 1942 – 20 September 1946, enlisting at age 19.
Served in Australia and then New Guinea and New Britain where he was involved in Intelligence – collecting, collating and assimilating information on troop movements and topographical map production for the Pacific region. In his spare time he painted and used a reproduction system for his widely circulated weekly cartoon strips on army life.
Worked in freelance commercial art in Brisbane and was sports cartoonist for The Sunday Mail, Brisbane.
Studied at East Sydney Technical College. Awarded Diploma in Fine Art (January 1951) under the Commonwealth Reconstruction Training Scheme.
Completed the five-year course in three years at the Strathfield Annex in Sydney's near west and at the main campus at Darlinghurst. Two fellow students were John Coburn and Jon Molvig. Rigby and Molvig became long-time close friends.
Returned to painting and commercial art in Brisbane.
Began exhibiting in mixed exhibitions at the Marodian Gallery and then The Johnstone Gallery.
Making an impression in the art world.
A finalist in both the Archibald Prize with a portrait of friend Jon Molvig and the Wynne Prize (two chosen). Jon Molvig entered the Archibald with a portrait of Rigby and, while rejected, it hung in a reject show and was later highly praised in the art world.
First one-man (solo) exhibition at Johnstone Gallery.
An Archibald finalist with a self portrait and finalist in the Wynne (2) and the Sulman Prize.
First major art prize.
Won the Dante Alighieri Society/Italian Government Travelling Art Scholarship with 'Italian Family (North Queensland)'.
Travelled abroad to live and paint in Italy under the Italian Government Travelling Art Scholarship won in 1955. Later visited England and France.
The sites of Italy were inspiring and uplifting. Rigby wanted to extend time overseas and lived in England for several months, including London and the Cornwall area. Returned to Australia by ship from Italy after a visit to Paris, arriving back in Brisbane in late January 1958. At the end of the year he had major exhibitions of his Italian works in Sydney and Brisbane.
Involved in commercial art and painting, Brisbane.
Won Australia's richest art prize in 1958 – The Australian Women's Weekly Art Prize (Portrait) for 1958; 1959 Caltex Art Prize, Qld; Centenary Year RNA Prize; Redcliffe Centenary Art Contest; 1962 Sulman Prize and many others.
Rigby continues to consolidate and find his way in art. In 1972 at age 50 the decision to leave advertising.

A Trustee of the Queensland Art Gallery.
Appointed by the Governor of Queensland as a Trustee of the gallery for four years from 16 May 1969. Rigby's position was extended multiple times and he served for 18 years until 1987. He helped guide the move of the Queensland Art Gallery from its original Gregory Terrace building to temporary quarters and then to the purpose-built facility at South Bank, Brisbane in 1982.
Retired from Commercial Art and closed 'Rigby Studio'.
Full-time painting and part-time art lecturing.
Asked to be a part-time lecturer one day a week at the Queensland College of Art. Major commercial retrospective of works from 1948 to 1968 at the Young Australian Gallery.
Taught and administered as Senior Instructor/Officer-in-Charge at Brisbane's School of Fine Art, Queensland College of Art (now part of Griffith University).
Exhibitions commence at The Town Gallery (dealer Verlie Just). Rigby's gallery for solo Brisbane shows until 1998. Retirement from academic sphere and return to full-time painting 1984. Painted on Lord Howe Island.
1994 – Awarded an Honorary Doctorate for services to the Arts, Griffith University, Queensland, Australia.
1995 – Visited Egypt and Central Australia producing paintings and drawings for exhibitions.
1996 – Painted in Bali and produced numerous works into 1997.
1999 – Visited Spain and Italy revisiting places stayed in throughout Italy in 1956/57.
2000 – Painting in Fiji.
2003 – A major book, 'John Rigby – Art and Life', launched at the Queensland Art Gallery.
Painting in the Whitsunday Islands, Queensland with two works included in the book as it was to go to press.
2004 – 'Portraits: John Rigby' – a survey of several decades of portraits at the Museum of Brisbane, City Hall.
2005 – 2009 – Various exhibitions – Gold Coast, Brisbane, Sydney and Melbourne. Final painting in the field and solo exhibition in Sydney in 2009 at age 86.
2012 – Passed away on 18 October.
Throughout the first decade of the 21st century, Rigby had continued to live and work in Brisbane, Australia, while conducting occasional art workshops throughout Queensland, as he had done for many decades.
From the Doctor of the University Occasional Speech 1994
---
In this 20th century none of the artists can be considered in isolation from the sum of the ideas evolved. The arts render in visual terms the thoughts and feelings in which modern civilisation conceives of itself.
Art has no need of certainties. In this changing world, art in whatever form is the material manifestation of an inner and spiritual activity and the question of reality and the place we occupy in it. To me, the actual creative act… is perhaps more important than the result… enjoyment should come into it, spontaneous joy.
Art is full of contrasts… it is not boring… Be sincere, but remember to make money… Artists feel they are working for themselves alone, and initially this is so, but in reality we are also working for someone else.
Express yourselves freely for where there is no feeling there's no life and where there's no feeling there's no art.
If one finds one cannot do anything meaningful we can still serve humanity as a horrible example (laughter). John Thomas Rigby
From the Doctor of the University Occasional Speech 1994
In this 20th century none of the artists can be considered in isolation from the sum of the ideas evolved. The arts render in visual terms the thoughts and feelings in which modern civilisation conceives of itself.
Art has no need of certainties. In this changing world, art in whatever form is the material manifestation of an inner and spiritual activity and the question of reality and the place we occupy in it. To me, the actual creative act… is perhaps more important than the result… enjoyment should come into it, spontaneous joy.
Art is full of contrasts… it is not boring… Be sincere, but remember to make money… Artists feel they are working for themselves alone, and initially this is so, but in reality we are also working for someone else.
Express yourselves freely for where there is no feeling there's no life and where there's no feeling there's no art.
If one finds one cannot do anything meaningful we can still serve humanity as a horrible example (laughter). John Thomas Rigby